Archery Training Programs: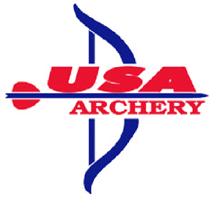 Promotion and Education of Target Archery

Instructor Membership Affiliations:

National Archery Association(NAA); National Alliance for the Development of Archery (NADA),

Georgia Archery Association, Kennesaw Archery Club, Wildlife Action Inc., Girl Scouts of America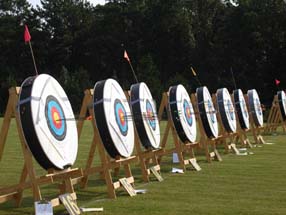 Click here to be on the mailing list for upcoming class information.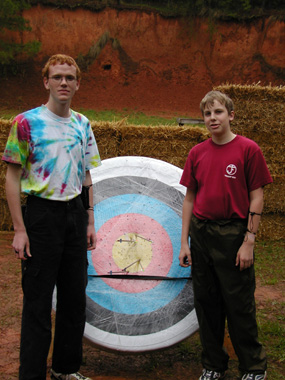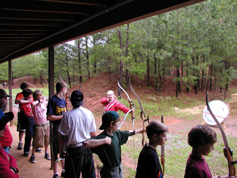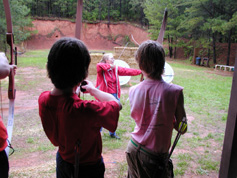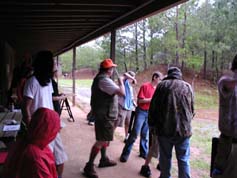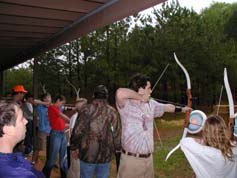 Below:

Archery instruction Saturday May 1, 2005, as part of Boy Scout Merit Badge Weekend held at Riverbend Gun Club.

6 troups attended for shooting badges, Archery was one of the rotations each troop attended.

Boys Scout units that participated in this event:

Troop 540, Troop 304, Troop 435, Venture Crew 1717, Troop 989, Troop 168, Troop 220 and included 43 scouts and 22 scout leaders. Archery instructors: Coach Jefflyne Potter, Harvey Russ (Sout Master), Tim Flood & his friend Tom)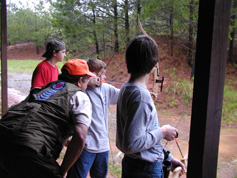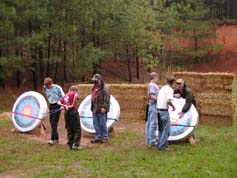 Coach Jefflyne demonstrates " steps "

Scouts shooting & getting tips

Tim Flood & Scout Master Harvey Russ

instruct

Gathering arrows & scoring.

Ongoing instruction, Camps,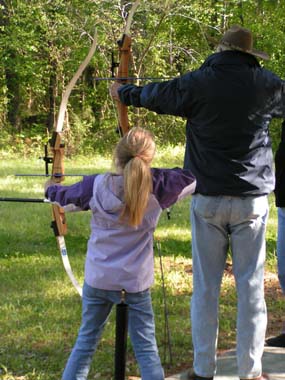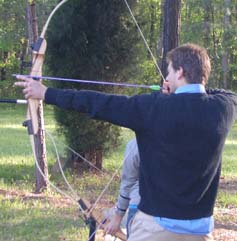 First Girl Scout "  Camellia Rose Day Camp" June 13-16 2005 with over 100 girls  learning basic Olympic style target archery, and safety instruction. Classes  held at Wildlife Action Center on Allatoona.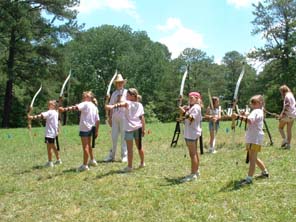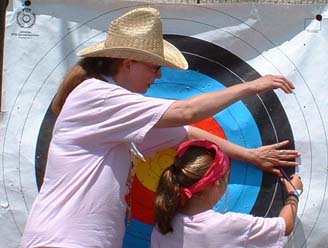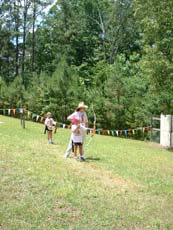 "Stance" ..."Where are your feet?".."Thumb pointing toward target"

"To safely pull arrows, place one hand on the paper close to the arrow...the other will touch the first hand and pull..."

Archery lessons for children ages 9-18 (JOAD)

Archery lessons for Adults 18 and over,

Adult Training Program ; NAA, SOAD

Beginner archery classes held in the Atlanta Georgia area;

Ongoing practice sessions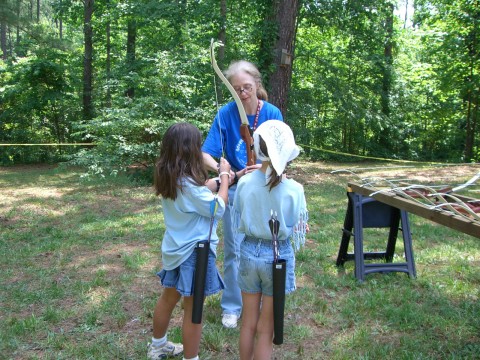 ______________________________________________________________________________

Girl Scout "  Camellia Rose Day Camp" every June since 2005 with over 100 girls learning Olympic style target archery using new National Training System method (biomechanically effecient shooting technique as directed by the USA National Olympic Archery Coach Kisik Lee) , and learning safety instruction, working for badges. Classes were held at Wildlife Action Center on Allatoona.

Broken into small groups, 2 hours at a time,ages 10 and up. Camp leaders assisting